Empower by Dr. Anh
When the pandemic closed her practice, renowned plastic surgeon, Dr. Anh Nguyen, began the creation of her Empower Lifestyle Range. She started experimenting with fabrics to create clothing that would spark the idea for her clothing line. As a child, she spent a lot of time at her family owned sewing business and learned how to make her own clothes. While her clothing line is predominantly intended for patients recovering from their plastic surgery, anyone wanting to feel sexy and beautiful can purchase her line. 
Plastic surgery isn't just about improving her patients' physical appearance, but rather empowering them to see their own self-worth, increase their confidence, and love themselves. Dr. Nguyen began hosting empowerment events in 2019 to further empower her patients and celebrate their transformations. These events celebrate the beauty, power, diversity, and value of women while creating lifelong connections to other women just like you. All her empowerment events feature her patients as models.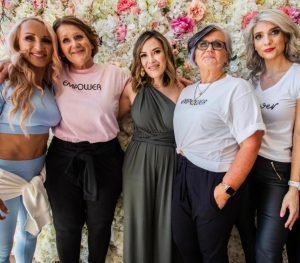 In commemoration of International Women's Day in 2019, Dr. Nguyen hosted a photoshoot featuring one hundred women aged 18-70 of all different sizes, shapes, backgrounds, nationalities, ethnicities, relationship statuses, parental statuses, and denominations. Named #DrAnhAngels, these women came together to celebrate being comfortable in your own skin, being confident, being bold and brave, and real, raw, and diverse beauty. All #DrAnhAngels were asked to come to the shoot wearing denim bottoms and were given t-shirts with #Empower or #DrAhnAngel on them. Some photos were taken fully clothed, in bras and underwear, in body paint, or nude. Dr. Nguyen watched her patients "transition from awkwardness and self-consciousness to owning their bodies around women who are all cheering each other on." 
This groundbreaking event also featured a fashion show in which these non-traditional models strutted down the catwalk wearing the latest creations from fashion designer Steph Audino. The event showed that being a supermodel doesn't require a certain physique or look, but rather that any woman can be one if she's empowered. It also featured keynote speakers and models sharing inspiring stories on topics such as surviving domestic violence, overcoming long battles with obesity, poor self-image, and poor health. This inspirational event showcased women who are leaders in their field making a difference, sharing their powerful stories, and motivating and empowering each other. "It was breathtaking to see these women who I selected based on their incredible journeys from disempowerment, self-loathing, feeling worthless, and ugly to empowerment, self-love, self-worth, and sheer beauty," says Dr. Nguyen of the event.
Leeanne Hilton made her modeling debut in the first Empower event after undergoing a life changing procedure to lose weight at Dr. Nguyen's practice. While the surgery changed her physical appearance, Dr. Nguyen's mentorship changed Hilton's entire mentality. Hilton said Dr. Nguyen recognized her worth when she couldn't and questioned why Dr. Nguyen chose her. She never imagined her plastic surgery operation would lead to her becoming a Dr. Anh's Angel or that she'd be getting naked in front of others for a photoshoot. When asked how being a part of this event felt, Hilton said it's "unbelievable, very freeing, [and] hard to conceptualize in words."
Hilton compares her relationship with Dr. Nguyen to repeatedly winning the lottery; there's only life-changing benefits. Before meeting her, Hilton battled her own demons, haunted by her abusive childhood, failed to see her own worth, and always put others' needs before her own. Now, Hilton has reached a level of self-confidence and self-actualization that she never thought was possible. Through these events, she was able to meet women just like her to form lifelong, positive relationships.
The second Empower event occurred at the beginning of December 2020 and debuted Dr. Nguyen's Empower line on the runway. The line features clothing for the everyday woman that's designed to be simple, versatile, flattering to most body shapes or forms, and that are comfortable while you're still recovering from your plastic surgery. The line features loungewear, activewear, dresses, and jumpsuits that can be worn casually or dressed up, depending on how its wearer chooses to accessorize. This inclusive brand is created and owned by women for women. View the full photo gallery here. You can view a video of the event here.